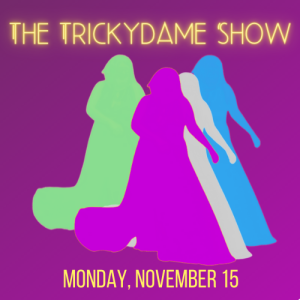 WOW!  I'm doing something that I've talked about for years!  I am producing my very first one woman show!  This has brought up a lot of emotions for me –
nervousness, fear, excitement, joy and anxiety!   Mostly Excitement though!!
The show is on Monday, November 15th at the Front Porch Improv in Savannah, GA.   It's a one hour show where I will share stories of how I used positive energy to activate courage to manifest my dreams.  This is an interactive show so I will be inviting the audience to share their own dreams as well as gratitude.  There will be laughter and maybe some dancing too!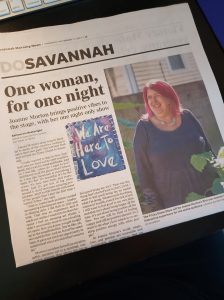 The last 20 minutes will be a live intuitive painting session by me while the audience members read what other people have shared they are grateful for.  It should be a very interesting evening !!
I am very grateful the local newspaper, Savannah Do put my painting "We are Here to Love" on the cover. This means every person who picked up this paper saw this and felt a zip zap of positive energy!
click the picture 👉   for the link.
TICKETS AVAILABLE AT THE DOOR – buy in advance in online Shop!