I am starting a podcast!   YAY!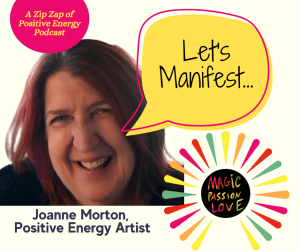 It's called, "Let's Manifest".  Let's Manifest is a zip zap of positive energy podcast to help you go from feeling stressed and frustrated to feeling relaxed and motivated. When you are relaxed and motivated, you take action on your personal and professional goals. Each show, Joanne Morton will share positive energy ideas & talk to special guests to offer a ZIP ZAP of positive energy.
I was all set to launch on Tuesday, December 21.  I recorded a fun episode and uploaded it on Monday, December 20th.   On Tuesday, i saw a typo in the description so I wanted to fix it … and then it happened!
ANCHOR approves all podcasts before posting and I didn't realize that it meant the descriptions too!  That means, my first episode wasn't going to launch as planned.   That kind of pissed me off — I got a little discouraged.   When you are starting something new – it's good to plan for mistakes because mistakes are the best ways to learn things!!!    
Let's Manifest will be sharing stories of manifesting our goals, the actions we take to create as well as some of the mistakes that were made along the way that actually created a manifestation bigger that you imagined!