Manifesting Positive Mobile

Community Engagement Art 
The Manifesting Mobile is a globally collaborative art traveling installation.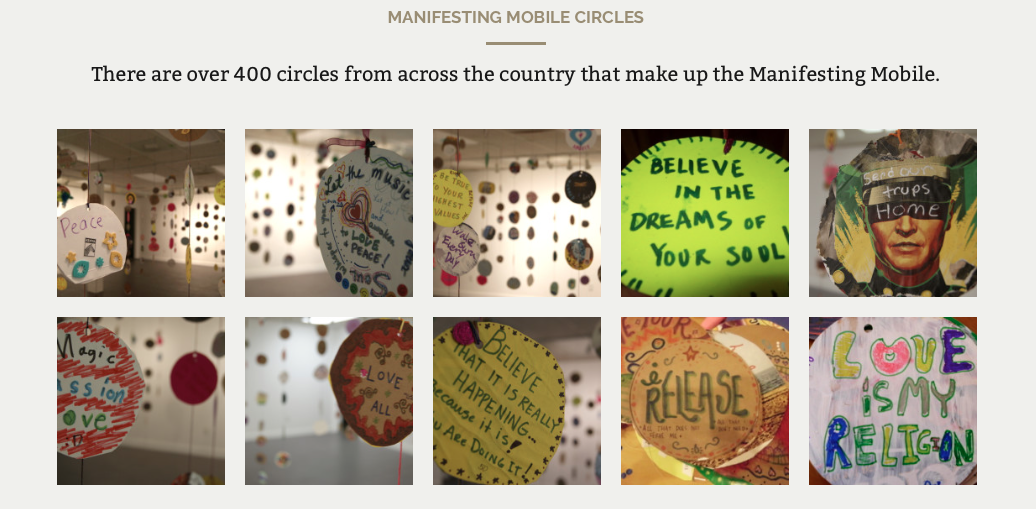 The Manifesting Mobile is a vision board that moves. 
The Manifesting Mobile is made up of recycled cardboard circles artfully decorated by participants. 
The circles represent people's dreams and visions for themselves and/or the world.  People from all communities have contributed to decorating the circles. When exhibited, the circles are strung across the room in rows of circles. Each exhibition is hand-tailored to the space. People are invited to walk through it as a meditative experience.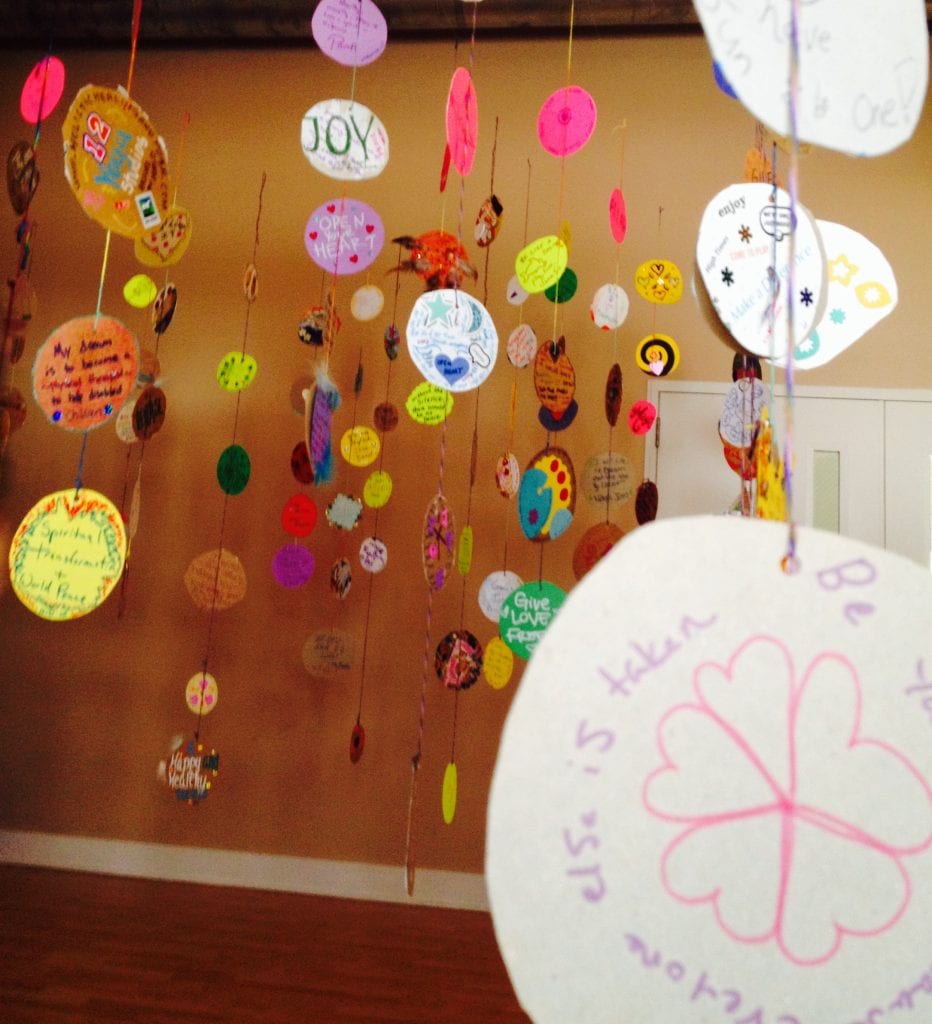 The Purpose:
– The Manifesting Mobile is a platform to engage conversation to transform themselves and their community in a positive direction.
– The Manifesting Mobile is a visual tapestry of intentions that helps brings people together to inspire and manifest positive change regarding cultural diversity, climate change and other local and global issues affecting their future.
– The Manifesting Mobile encourages personal and social responsibility and helps people explore the vision they have for themselves, giving them the context, they need to get inspired and take action.
"The Manifesting Mobile is a great way for you to creatively express what you think and feel about your current situation and future aspirations.  This is exactly why I started AND… ACTION! because after I would read something, attend a panel discussion or create a manifesting mobile with Joanne, I wanted to continue taking action!  If you feel the same, reach out and  join us for our 2021 "Me-We" Action reboot!"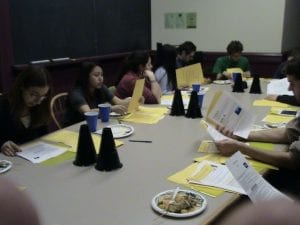 Benefits to Making the Manifesting Mobile
Makes Your Visions Clear – Creates Courage – Gratitude Increases – Inspires Action – Optimistic Thoughts
Manifesting Mobile
The Manifesting Mobile was part of the Savannah-Chatham Sustainability Coalition (SCSC) "Earth Day Savannah. 2021"   The month-long  celebration of Earth Day in Savannah, featured virtual and small, in-person events hosted local businesses and environmental non-profits. in addition to Manifesting Mobile Pop Up Art Parties in neighborhood parks. Community members were invited to share their visions of a healthy world.  The Manifesting Mobile Project will continue until the end of summer with an exhibition of the hanging mobile in the fall.   The Manifesting Mobile intention is build community awareness and unity to protect our planet by supporting our city and local environmental nonprofits as they help us make "Earth Day Every Day!"
Book Joanne to present the Manifesting Mobile at your business, event and organization.   
Email her for booking details.