Magic pAssion Love & Play
Each week in a different square in the historic district of Savannah from December 1, 2021 – May 11, 2022, the public is invited to share appreciation & gratitude for the actions they are taking to manifest their goals.  Everyone Welcome! 
People may join in a group circle or merely observe. COVID-19 Safety protocols will be in place.  They are FREE, however, Donations accepted: Venmo @joanne-morton // PayPal joannemorton410@gmail.com
Gather at 12pm
Gratitude sharing begins at 12:12pm
End at 12:30pm
Our intention is to meet others who are committed to living from their hearts, and believe in the collective power of love. With more of us sharing gratitude – there is a shift in the consciousness for everyone that uplifts all of us.

Between November 2013 through October 2017 , I hosted weekly Gratitude Circles in the 22 historic squares in Savannah, GA.
Since then I have shared gratitude with 900+ people in over 150 public gatherings in person and online.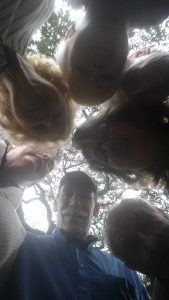 Thank you, Joanne for creating an idea and a space for me to make a Manifesting Mobile for our baby boy. This is so much more than what i expected and it was a beautiful way to spend mothers day afternoon. It is very special to put together these wishes and dreams for our baby on this "vision board that moves."
Jennifer shares her Wishes & Dreams Manifesting Mobile for her son.   Check out the variety of DIY Manifesting Mobiles available for download at the SHOP PAGE.    If you would like to work with me to create your personal Manifesting Mobile, please schedule your 30 minute introduction call here: https://calendly.com/joannemorton
Joanne sparks the imagination and keeps us focused on the reward of feeling good and spreading your magic. She is constantly creating the reality she wants for herself and inspires those around her to do the same.  
Working with the ideas of Magic Passion Love is amazing! It is allowing me to connect with other co-creators and has made my intent of performing my music to come to life.