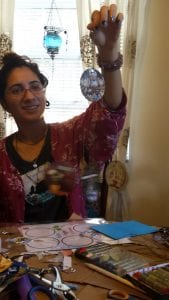 The Magic Passion Love Manifesting Mobile™© is a vision board that moves.
A vision board is a collage of images, pictures and affirmations of your dreams and all of the things that make you feel good. It is also called a dream board or treasure map.
Hang your personal manifesting mobile in your home or office to help you visualize your wishes and dreams.
The Manifesting Mobile is a great to help clarify and maintain focus on your life goals.
Watch How to Make Manifesting Mobile on YOUTUBE