One of my favorite Christmas songs is The Secret of Christmas sung by Julie Andrews.   
"The little gift you send on Christmas day
Will not bring back the friend you turned away
So may I suggest the secret of Christmas
It's not the things you do at Christmas time
But the Christmas things you all year through"
So whether you are looking for a Christmas present, birthday gift or just a gift to say "I Love You" – I hope you will check out the products I've created on RedBubble. 
 These products are oozing with Positive Energy that will sure give anyone, including you a ZIP ZAP of MAGIC PASSION LOVE! 
I found this lovely version of the song Julie sings with Peabo Bryson!
Elizabeth, Thank you for sharing your new pillows !!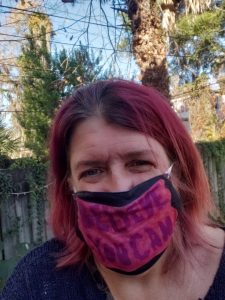 There are over 100 products ranging from mugs, leggings, clothes, back packs, coffee mugs, water bottles, note books, shower curtains, mouse pads, stickers, wall hangings, phone cases and more!    
Thank you so much for your support of my work.   I am sending you much Magic Passion Love energy right now!! 
Check out my online shop on the website too!   Link in button below