Manifesting Mobile
an immersive community art project

Bring the Manifesting Mobile to your event or company!

 
A Manifesting Mobile is a visually captivating hanging mobile that combines the elements of art, mindfulness, and intention setting. It consists of circles (visionary art) that are decorated on both sides with words & images that reflect the personal or collective intentions.
The mobile is often created with a specific intention in mind, and each circle may represent a different aspect of the desired manifestation.
 Promotes Employee Well-Being and Engagement
Demonstrates a Focus on Personal Growth and Development
Encourages Positive Intentions and Goal-Setting 
It prompts individuals to focus on their intentions, fostering a sense of connection with their goals and a heightened awareness of their desires. Displayed in homes or workplaces, it can be a powerful tool for positive thinking, self-improvement, and personal growth.   It serves as a daily reminder of personal goals and aspirations.
Reach out to schedule a discovery call!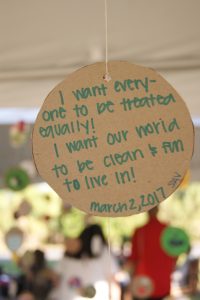 MANIFESTING MOBILE

 is a traveling immersive
community engagement art experience to invite people to have conversations that creates peace, love and hope.
The Manifesting Mobile is a visual tapestry of intentions that helps bring people together to inspire action for sustainable change regarding cultural diversity, climate change and other local and global issues affecting their future. As of 2023, there are over 600 circles of visionary art work.   These circles are 4.5″ and made out of recycled food boxes. People are invited to walk through it. This shared experience empowers them to get involved and take action to #makeearthdayeveryday.
Since 2010, Joanne has been inviting people from around the world to contribute their positive visions for the Planet, People, Prosperity and Peace.   In 2012, Joanne traveled from Savannah to California and back for six months MPL USA Art Tour.  The Manifesting Mobile has exhibited in Savannah, GA many times as well as traveling to San Francisco, CA, Livingston, MT, Llano, TX, Laguna Beach, CA, Seattle, WA  and most recently, Snohomish, WA.
The Manifesting Mobile is an exhibition of a large hanging mobile* that is hung in a large enclosed catering tent. It can also be hung indoors in many   The exhibition include the following experiences:  interactive art table, cultural activities, and opportunities for conversation with community members to inspire community engagement with each other.  
The Magic Passion Love Manifesting Mobile™© is a vision board that moves. A vision board is a collage of images, pictures and affirmations of your dreams and all of the things that make you feel good. It is also called a dream board or treasure map.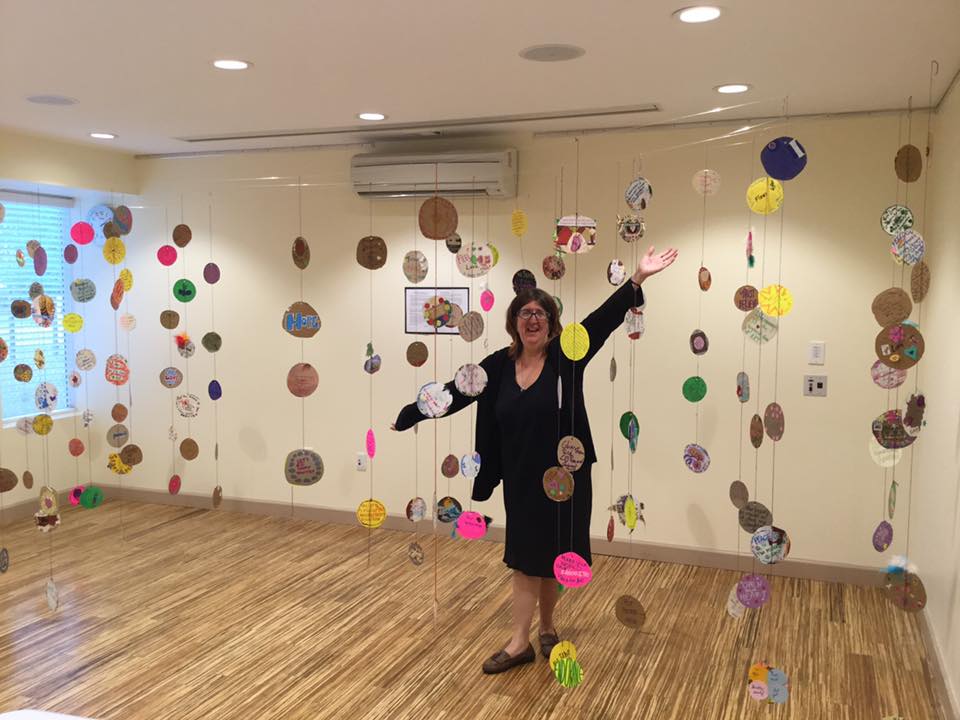 April 2016, Chatham County Recycles, Savannah, GA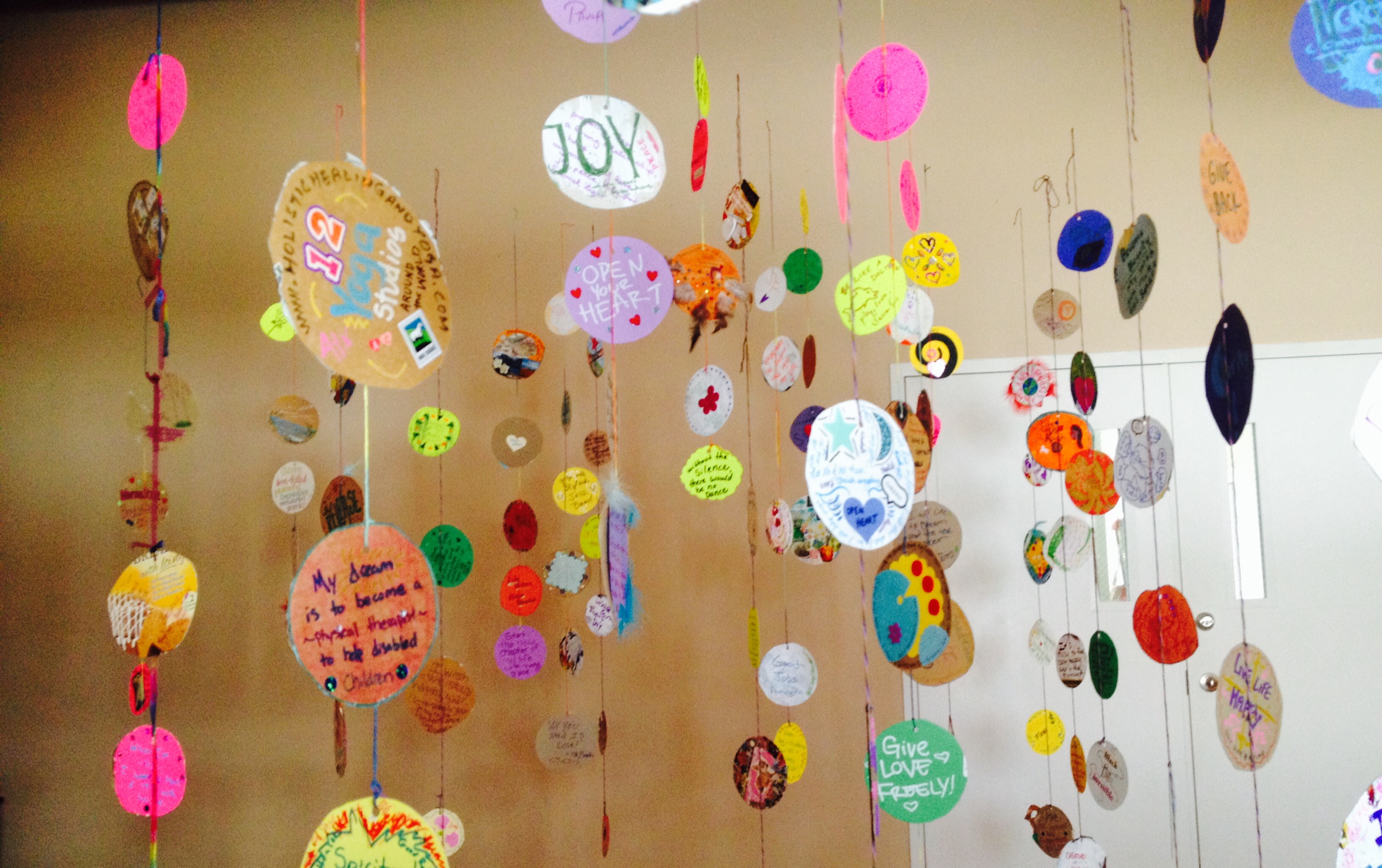 August 2014, Anahata Healing Arts, Savannah, GA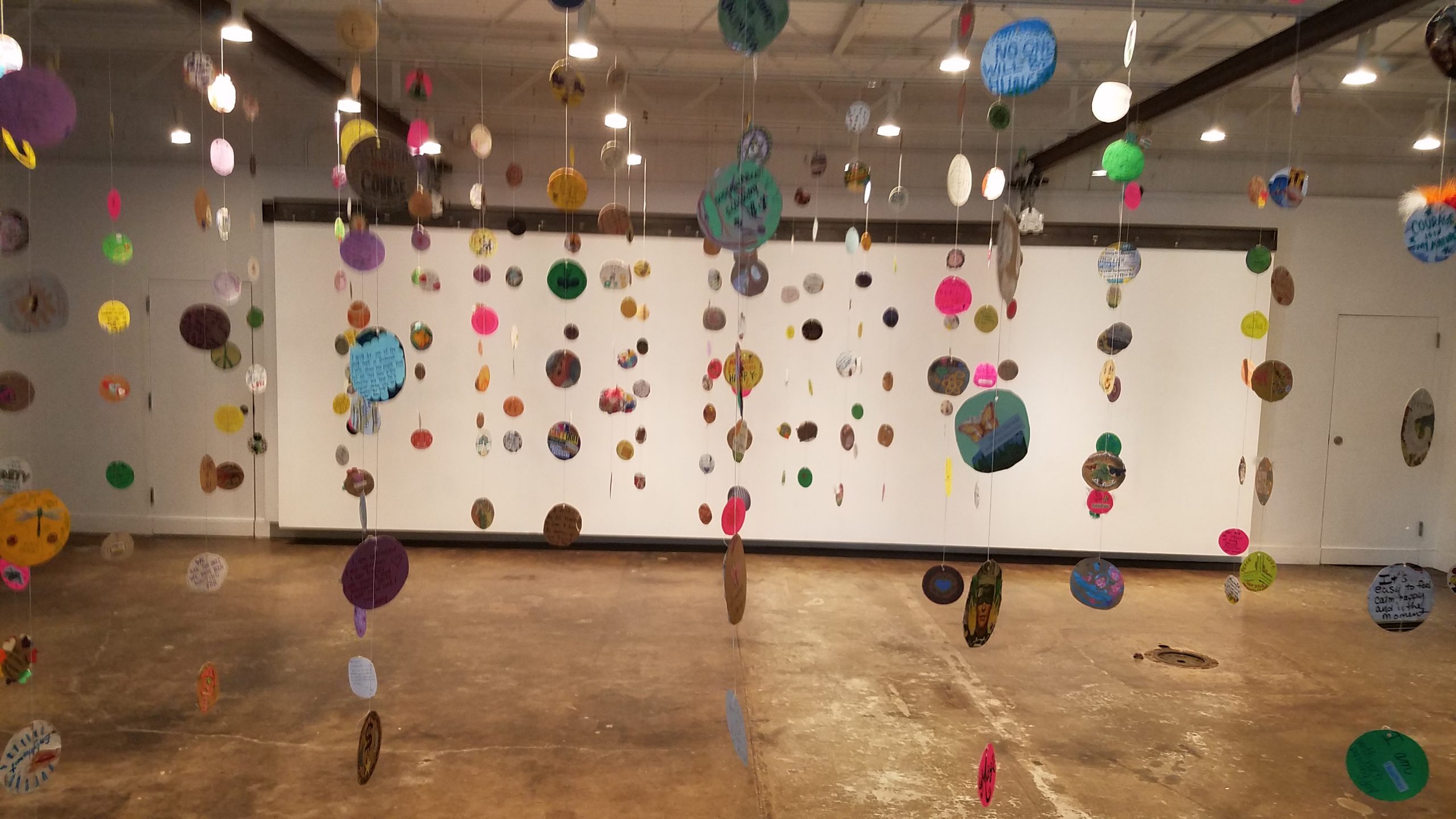 October 2018, Welmont Gallery  – Savannah, GA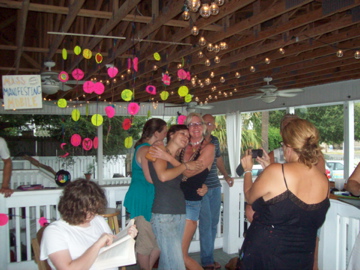 September 2010, Tybee Island Social Club, Tybee Island, GA
WHAT COMMUNITY ENGAGEMENT ART OFFERS 
Brings the conversation of  diversity and inclusion to all communities.   There is a need right now to share our common values and beliefs.    
Receive  messages of "peace, love, good health, prosperity and peace" from around the world. 
Enjoy the interactive self-care elements :
– Silent Walking at your own pace
– Seated Guided Meditations
– Laughter Yoga
 – Gratitude Circle
Opportunities to add your personal visions for yourself and your team to build the "World's Largest Hanging Mobile"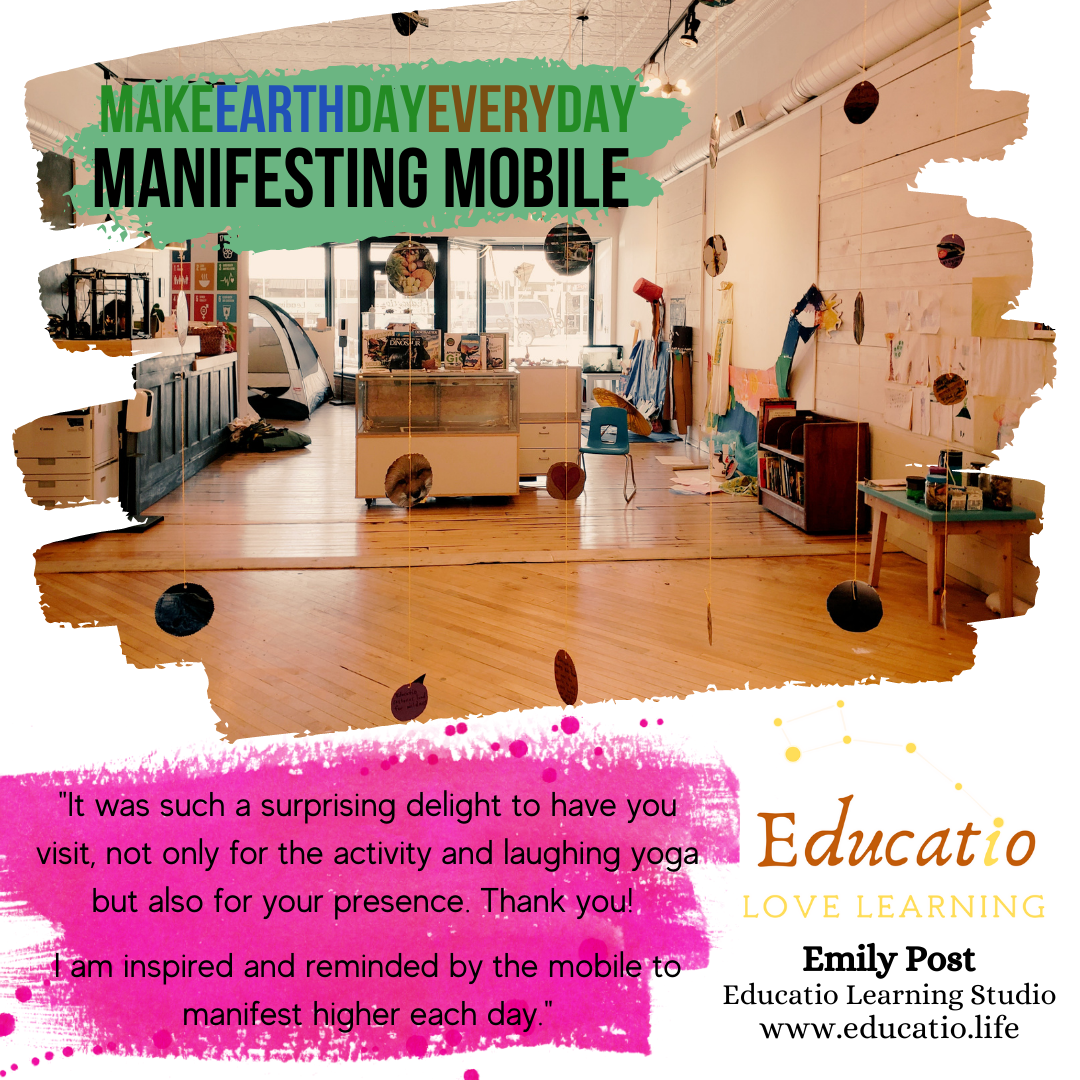 Manifesting Mobile: Creative Experiences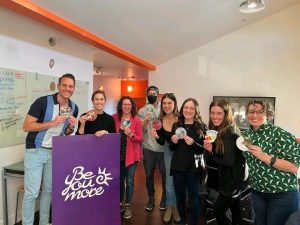 February 2023 Juneteenth Youth Power Festival, Savannah, GA
February 2023 ACT Inspired Art Show, Snohomish, WA
November 2022 International Kindness Day Laguana Beach, CA
October 2022 Shift Up Agency, Seattle, WA (photo)
April 2022  Circles of Hope:Co-creating Positive Change, Savannah, GA
April 2021  Make Earth Every Day, neighborhood pop ups, Savannah, GA 
August 2020  Educatio, Livingston, MT
February 2020  Wisdom 2.0 Conference, San Francisco, CA 
October 2018  Rhythm of the Heart, Welmont Gallery, Savannah, GA 
August 2017  First Friday Art Night,  Sulfur Studios, Savannah, GA 
April 2016-2017  Chatham County Recycling Center, Savannah, GA 
October 2014  A Vision of Humanity, The Foundery Coffee Pub, Savannah, GA 
April 2014  Essence of Evolution, Anahata Healing Arts Gallery, Savannah, GA 
February 2014  Wisdom 2.0 Conference, San Francisco, CA  
 Jan – July 2012  MPL USA Art Tour, (GA, FL, AL, LA, TX, NM, AZ, CA, MN, IA & OH) 
January 2012  MLK Jr Day Parade, Emmet Park, Savannah, Ga 
September 2010   Tybee Social Restaurant, Tybee Island, Ga 
June 2009   Figment Art on Governor's Island, New York City (This was the inspiration to take the Manifesting Mobile on tour in 2010)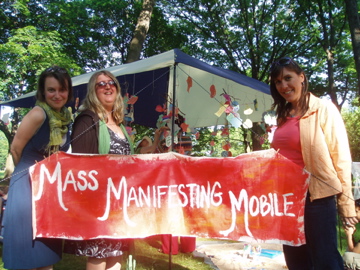 Highlights from Circles of Hope: Co-Creating Positive Change exhibition in April 2022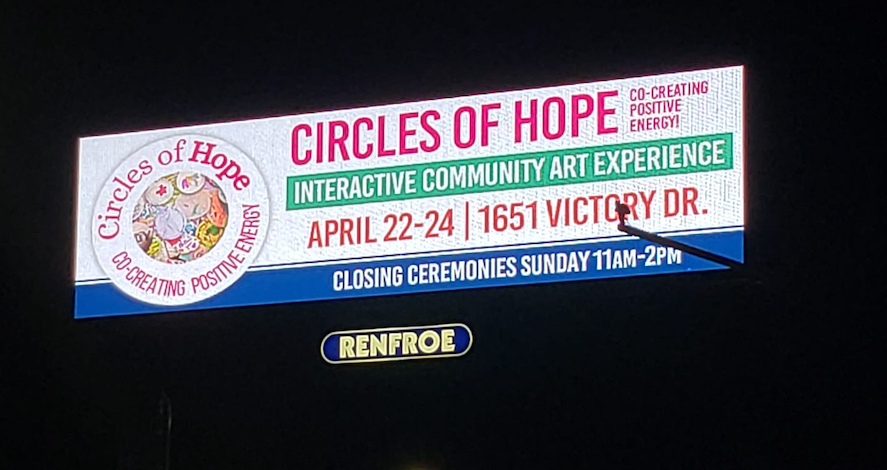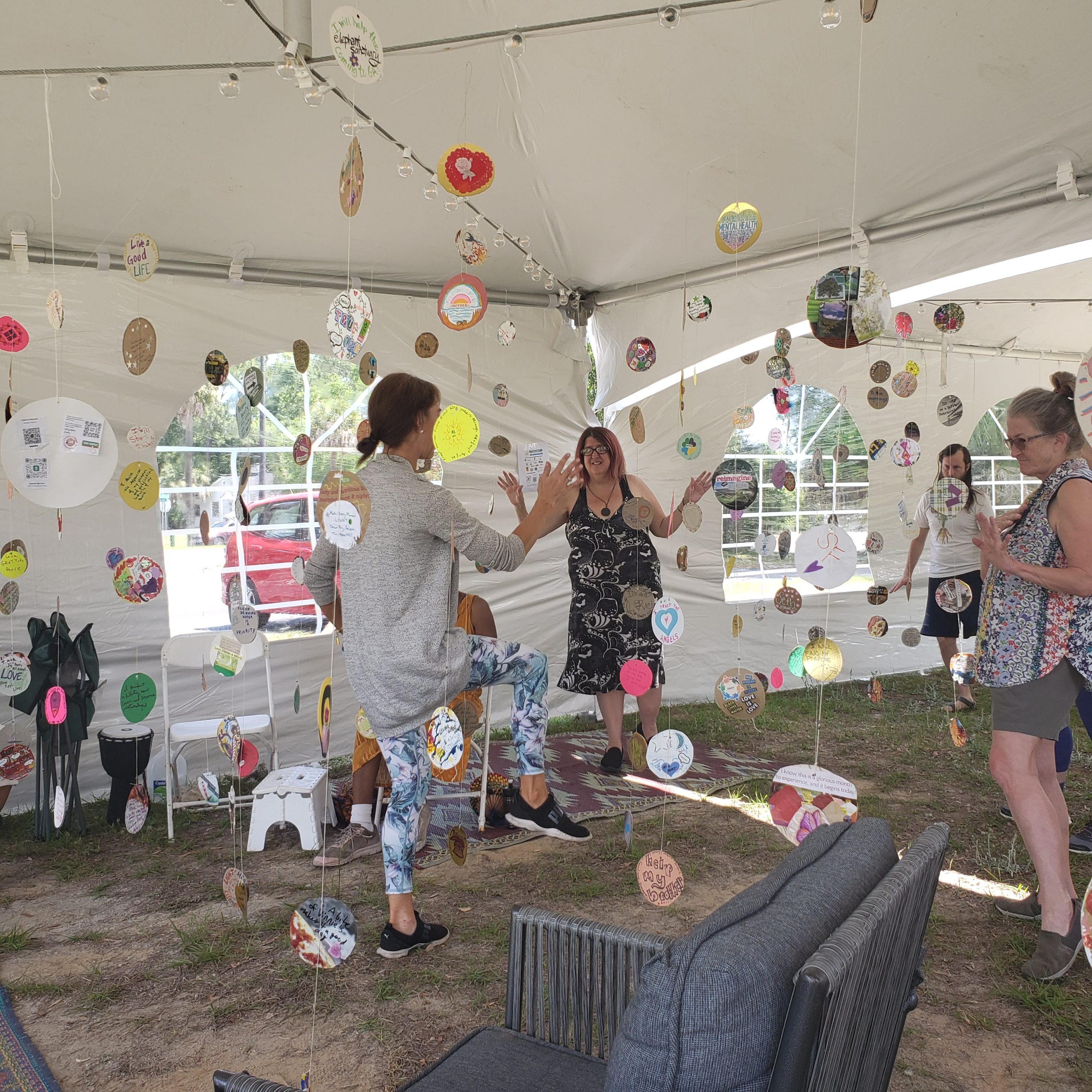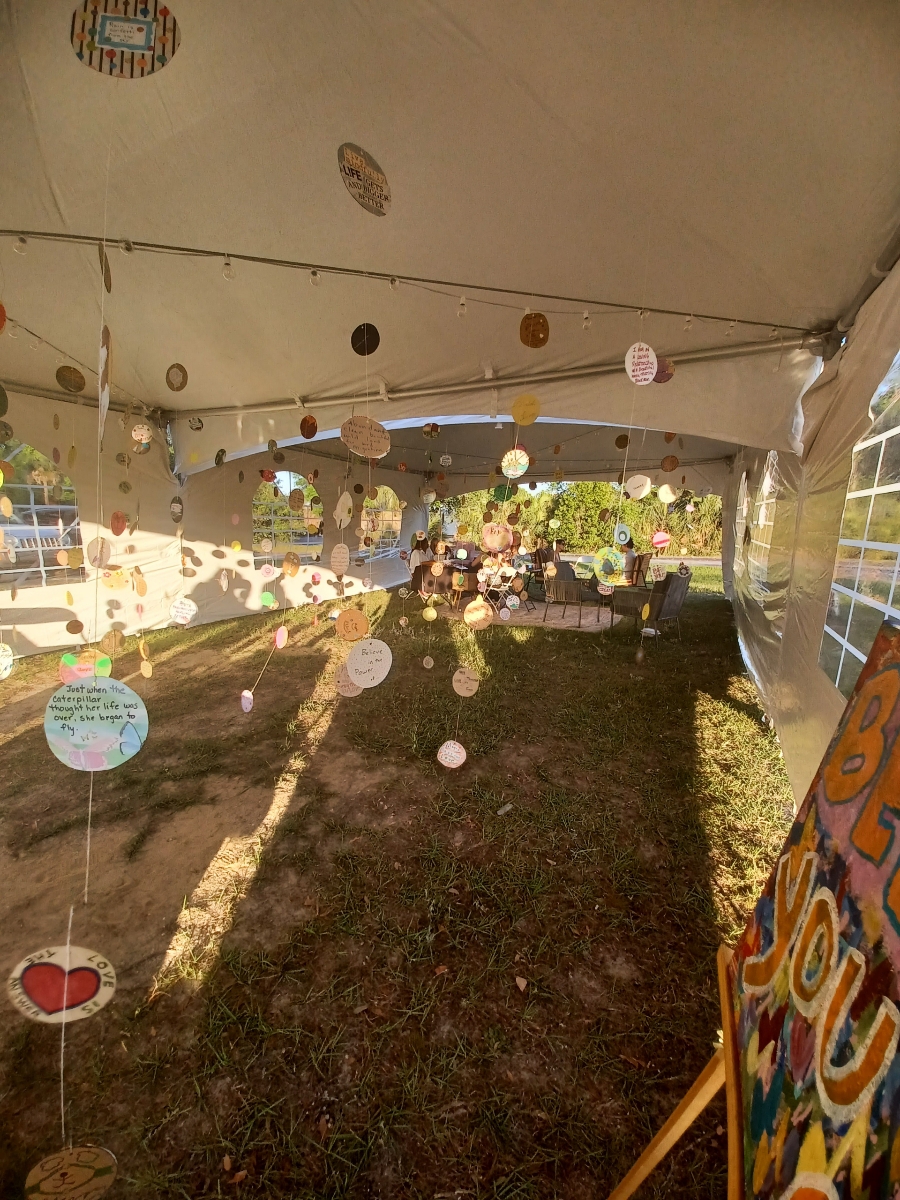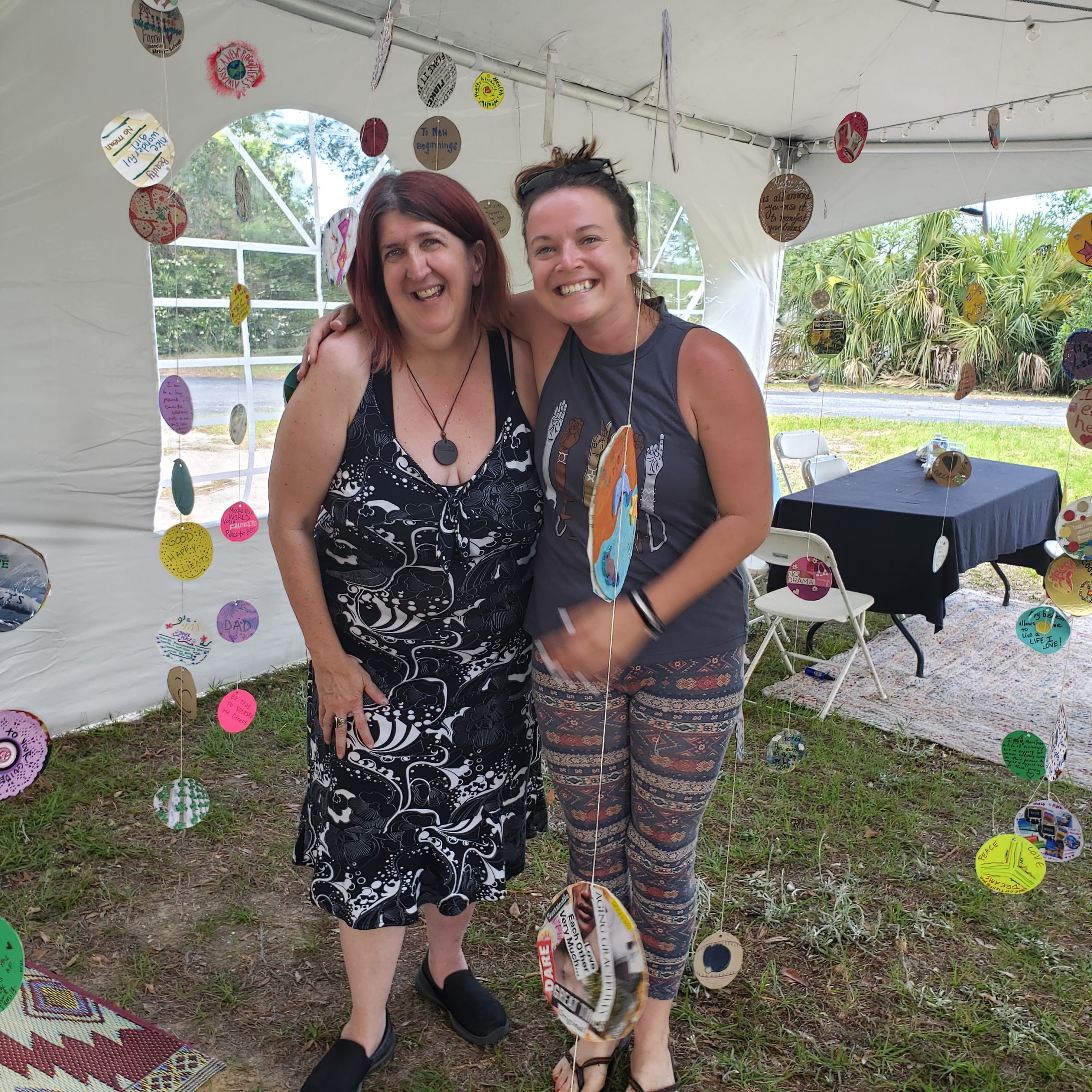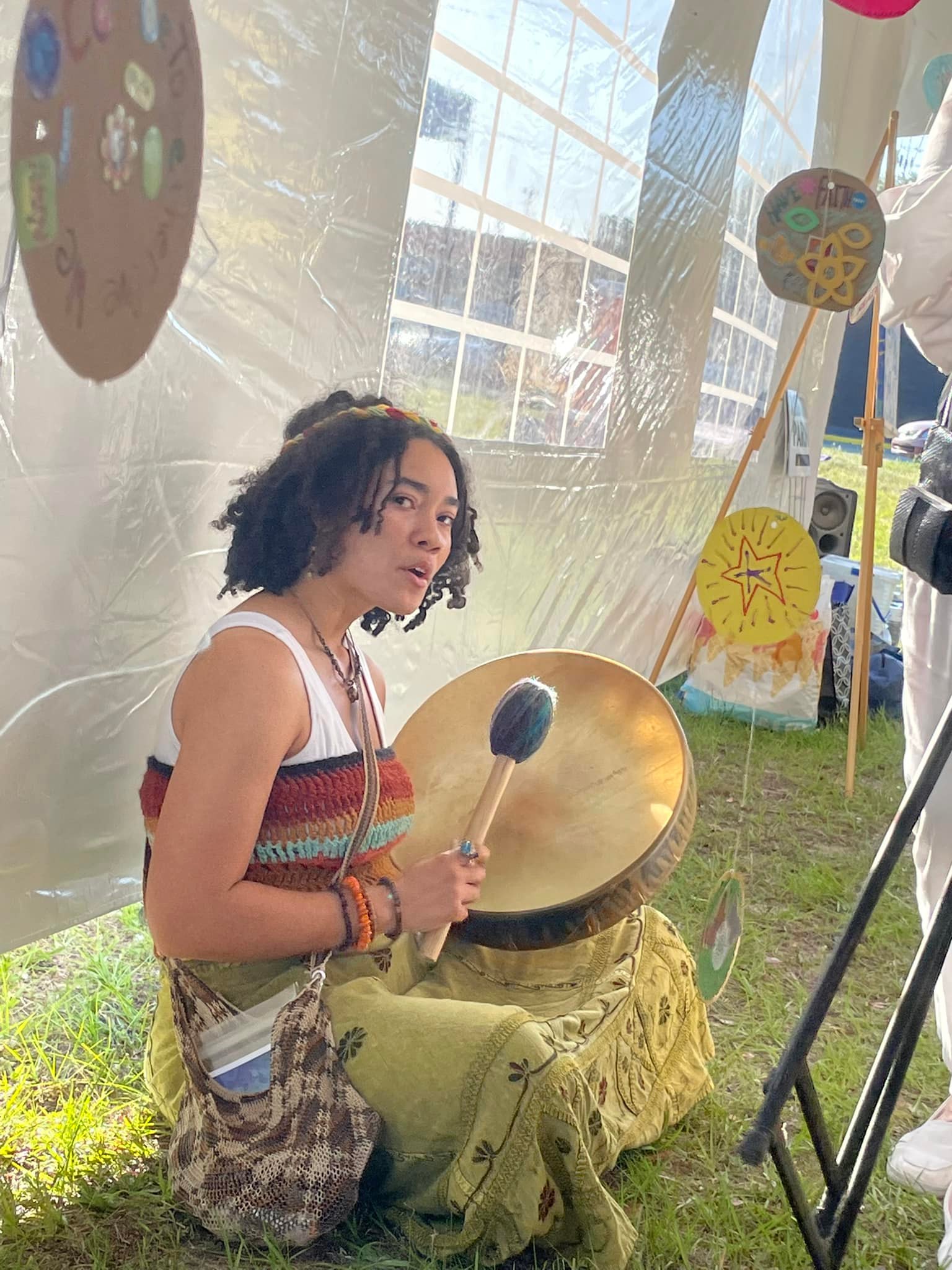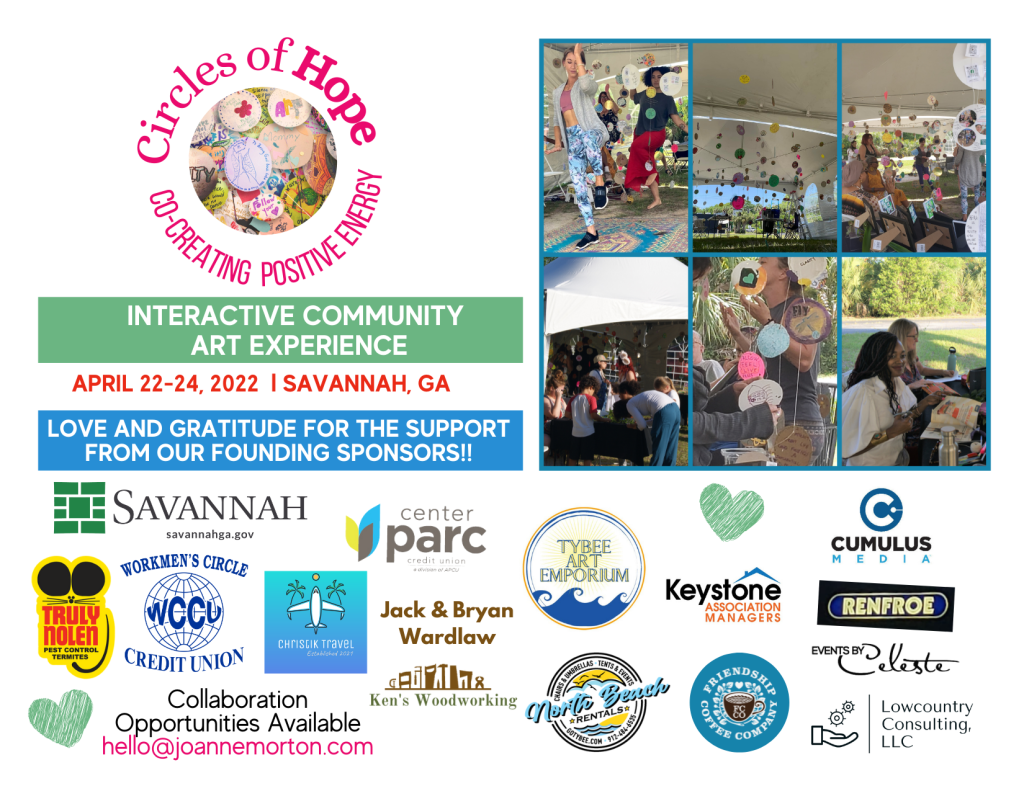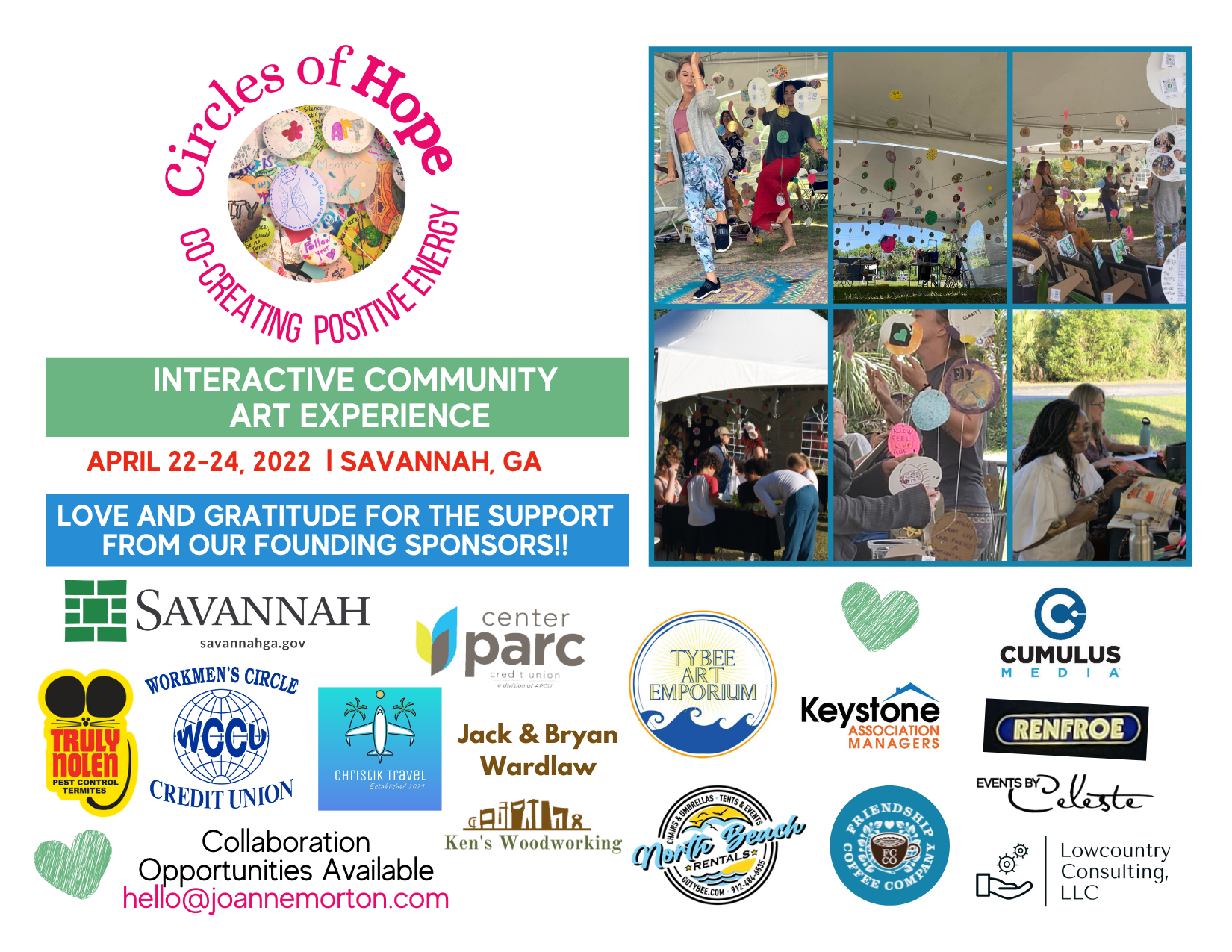 Thank you for the support of the following businesses and people:
Savannah's Department of Cultural Affairs: Weave a Dream 
Renfroe Outdoor
Ken's Woodworking
Jack and Bryan Wardlaw
SPECIAL BIG THANK YOU HUG to Carter and Angie!
November 2014,  The Foundery Cafe, Savannah, GA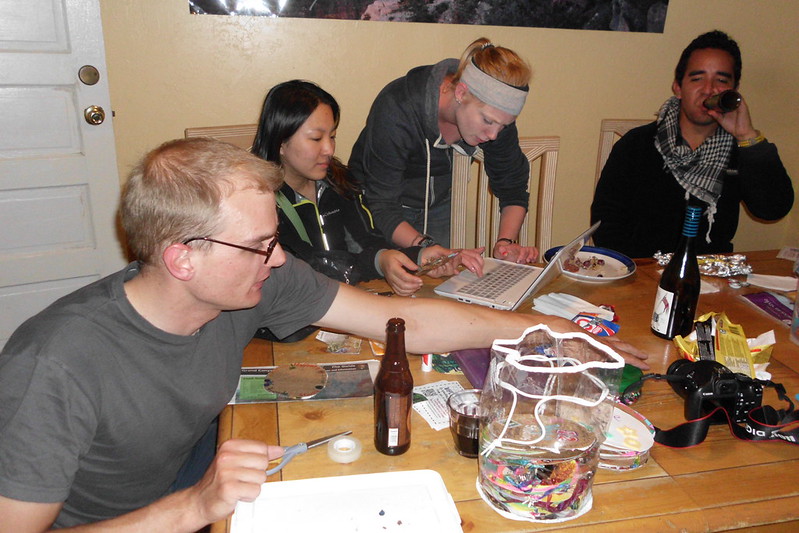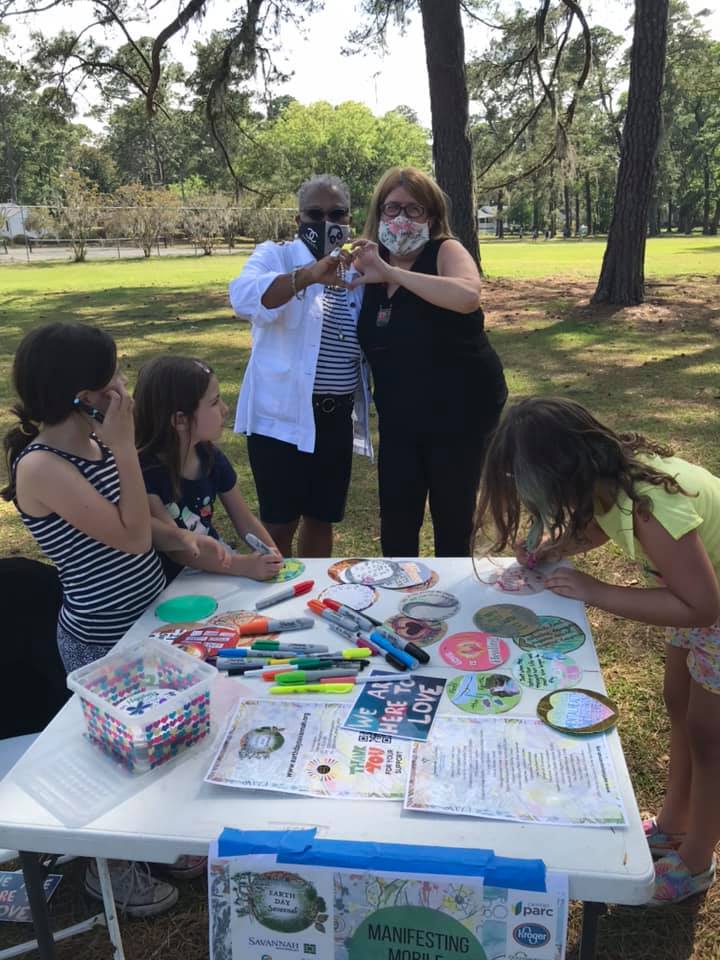 Forest Hills Park, Savannah GA – April 2021
Benefits to Making the Manifesting Mobile
Clarity with Vision – Creates Courage – Gratitude Increases – Inspires Action – Optimistic Thoughts
manifesting Mobile
Co-creating positive change
Available for conferences, conventions, community and business events.
The Manifesting Mobile combines my love of affirmations with vision boards. Being creative is so valuable to our mental and physical health.  When you take the time to be creative and visualize (dream) of how you want to live your life – this simple act actually helps manifest it into being.